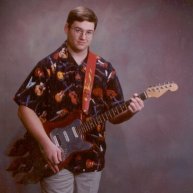 1. I am...
... Keith "Hellmark" Brown. 20, lived in the outskirts of St Louis my entire life. Bit of a screwy individual. Grew up in the family gunshop, my parents also raised and sold various animals (Llamas, donkeys, turkeys, etc), also have been into computers most of my life (Timex Sinclair 1000, then a 386DX, then a...).
2. I got into MAME...
... in one of the numerous .36 releases. Friend gave me a CD of some roms because he knew I liked emulation. Been hooked ever since.
3. I love playing...
Space shooters, fighters, racing games, etc. Basically anything where you get to go fast or blow stuff up (preferably both)
4. I would like to say to Nicola and the MAME team...
You guys rock. I want to have your babies! (J/k)
---
Monstershit
Machine specs: 2800+ (AMD64) | 1024mb (DDR400) | 80GB + 180GB H/D (Linux!)
Graphics: ATI Radeon 9200SE (128MB) | Sound: Creative Labs Audigy 2
Controllers: PS2 controllers, Sidewinder gamepad, and keyboard
Funkyshit
Machine specs: Dual 333MHz (PII) | 192mb | 2x6.5GB H/D
Graphics: Matrox Millenium G200 (8MB) | Controllers: Another computer via SSH
Johnny_on_the_spot
Machine specs: 266MHz (PII) | 96MB | 5.1GB H/D
Graphics: Neomagic 128XD | Controllers: Keyboard

---
[ No email given ] [ No homepage given ]