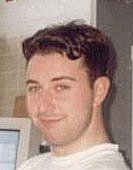 1. I am...
... currently living in the countryside of North Yorkshire. I was born in 1976, which makes me older than some & not quite as old as others. I'm orginally from Liverpool, that fine place of ..... oh, hang on, I'll get there.... nope! Can't think of anything! [joking!] I moved away when I was 18 to go to university - and being the great person I am I did 5 years & failed! Don't let my mother hear you say that I'm a waste!
2. I got into MAME...
... when I started working - another person had downloaded MAME along with a couple of ROMs & spent most of his time playing it. I got into it and have been playing since, but its unfair just to stop at MAME, so I'm trying to build a collection containing every emulator.

Sounds sad? Well, yes, probably!
3. I love playing...
... the ol' Beat-Em-Ups, X-MEN Vs Street Fighter being a quality one, but I like the originals (Street Fighter 2) also.

Galaga88 is getting a fine pumping too. Now *that's* a game with hidden secrets!
4. I would like to say to Nicola and the MAME team...
You guys are da bomb! May your vodka jars be filled forever.
---
Machine specs: 1.4GHz (AMB T-Bird) | 768MB | 60GB + 60GB + 30GB H/D
Graphics: ATi Radeon (64DDR) | Sound: (not specified)
Controllers: (not specified)

---
[ e-mail me! ] [ No HomePage Yet! ] [ I'm a burner! ]