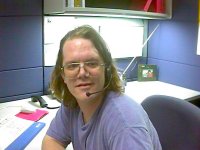 1. I am...
... 36 years old, living in Michigan. And my entire family is addicted to MAME. Heck, I have to fight my 6-year old for my computer at time: "but Dad... I want to play MAME!"
2. I got into MAME...
... years ago, back when you could play it from a floppy. Back then, I had 300 roms and only half worked.
3. I love playing...
Mad planet - The fastest game around....
Tempest and Pepper II
4. I would like to say to Nicola and the MAME team...
Thank you so much, you have changed my life.
---
Machine specs: 1.4GHz (AMD) | 512MB (DDR) | 40GB H/D
Graphics: ATi All-In-Wonder 128 | Sound: SoundBlaster Live!
Controllers: X-arcade (and I love it!)

---
[ e-mail me! ] [ HomePage ] [ I'm a burner! ]