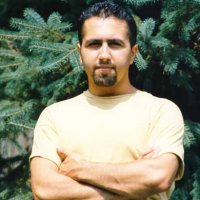 1. I am...
Canadian, and proud of it, dammit!

So who am I? I'm not sure how to go about writing this so I'll just put my random thoughts in point form:
Got my first console (Atari 2600) back in 1982
Spent a great deal of my early teens to mid-twenties in the arcades, dropping quarters into giant wooden boxes with levers.
Bought my first computer (a C64) back in 1983 (13 years old) with money earned from working weekends.
Bought an Amiga 1000 in 1986 and than an Amiga 2000HD, which needed a bank loan to purchase.
Ran a BBS from 1985-1990, starting with C64 followed by Amiga, ending on PC.
Have bought and sold many different consoles, some of which I still own.
Have worked in I.T. for five years and got bored of it. Now I work as an industrial robot programmer for Automotive Applications.
I like making graphics/logos etc.. (ask me, and I may do something for ya)
I like making music, using synths and PCs.
I like starting thousands of projects and taking forever to finish them.
I've been in the C64 / Amiga / PC scenes and now the MAME scene. I have gained wisdom and see things differently than some.
I have unconventional thinking methods.

Thats it. Have questions? Wanna know more? You can use the e-mail address below.
2. I got into MAME...
... when working in I.T. department at the time. I was given a palm pilot sent in for repairs which, although having a smashed screen was still functional. I was bored and decided to download some games for it, at which point I found a Galaga clone on Palm Incs. website. I showed it to a friend at work who casually mentioned he had something called an emulator.

Off to Google I went, searching for my favourite classic games. To cut a long story short I found MAME version 0.36 and have gone through the 5 stages of MAME addiction:
* Stage1: You discover MAME.
* Stage2: You download a bunch of ROMS and play the heck out of your keyboard.
* Stage3: Keyboard is not adequate so you pick up a Gamepad. Still not good enough.
* Stage4: You build a control panel with authentic arcade joysticks, or you buy one. Something still does not feel right.
* Stage5: You buy - or build - your own arcade cabient.
* Stage6 (Optional) You fill up your basement with real arcade cabinets.

3. I love playing...
MoonCresta - Almost got arrested playing this game, when I lived in Greece (weird law) ....that's another story.
Pooyan - Save the little pigs from those wolves.
Tiger Heli - Listen to "Jump" (Van Halen) while playing this game.
Twin Cobra - Keep collecting the blue weapon for some nice shooting.
Galaga & Galaga88 - Shoot them bees!

4. I would like to say to Nicola and the MAME team...
Somehow, "Thank You" does not seem to be enough.

I'd like to thank Nicola for starting all this, and the MAME team for doing this on their spare time as a hobby.

Now I can once again enjoy games from my youth, which are very hard to find at local arcades - usually shoved in the back corner.

Keep up the good work - you've made thousands of people very, very happy, and have single-handedly started a whole community. You should make it into the Guiness Book Of Records for so many different things.
---
Machine specs: 1.8GHz (Athlon XP2500+, set to 2.0GHz) | ??MB (OCZ PC3500 Dual-Channel EL DDR) | 120GB H/D
Graphics: ATI Radeon 9700 Pro @ 365 MHz Core/690 Mhz Memory | Sound: nForce2 chipset (Dolby Digital 5.1)
Controllers: PC GamePad plus Slik-Stik arcade controller

---
[ e-mail me! ] [ HomePage ]