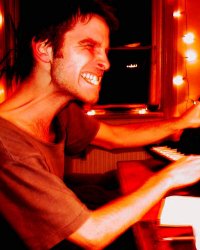 1. I am...
... a 26-year old musician, living in Copenhagen, Denmark. I mostly play the drums, but I can sing and play a decent bass, too, as well as playing with my beloved (restored) Fender Rhodes piano here ;-)

I am currently unemployed, but that's just as well since it gives me more time to indulge myself in the five different musical projects I am currently involved in, ranging from Jazz over Hip-Hop to Rock and childrens' songs...

Playing music is the one thing I am really good at!
2. I got into MAME...
... when I first saw it at a friend's place back in '97. If I recall correctly, Ghosts n' Goblins had just been added to Mame and my jaw dropped to my feet when I saw this game running arcade-perfect on his PC. I am sort of a nostalgic and melancholic type of person, so naturally I was hooked instantly!

I built myself a PC during Feb '99 - and, of course, it's already totally antiquated by today's standards - but I can play nearly all my favourite MAME games on it, so I'm not complaining!

I've recently bought a keyboard encoder and I am going to build a MAME joystick panel out of parts from a real one. Now, to find one that's for sale...
3. I love playing...
Robotron 2084!!! - I feel pure adrenalin surge through my body when the Grunts and Quarks are closing in. I like games that keep me alert, where quick reactions are required to survive - such as Battle Chopper, Bomb Jack, Time Pilot '84 & Gyruss. But Robotron is the king of adrenaline!

I am also addicted to puzzle games like Sparkz, Puzzle Bobble, Plotting and Puzznic. Those games are sort of the best of both worlds - quick thinking and reactions, combining things and all under stress...

Hmm.. wonder what my therapist would make out of that?
4. I would like to say to Nicola and the MAME team...
... well, everybody talks about emulating the games, but what about the hardware they run on? These days, most MC68000 and 6502 CPUs sits inside the washing machines at the local laundromat, you know. Through emulation they are preserved for ever. That reminds me of something I've thought about: how about MWME - Multiple Washing Machine Emulator? You've emulated all the hardware already, now all we need is someone to dump the ROMS! Then we can watch in amazement as virtual jeans and T-shirts get... oh, never mind.

Your work is exceptional. Thank you, thank you, thank you!! And thanks to John IV and the MAME32 team, and to my countrymen maintaining mame.dk.
---
Machine specs: 550MHz (Intel P-III) | 256MB (SDRAM) | 10GB H/D
Graphics: Geforce256 MX (32MB) | Sound: Soundblaster Live!
Controllers: Sony PSX DualShock Controller (USB) & C64 one-button joystick (adapted to work off Live!'s gameport.)

---
[ e-mail me! ] [ No Homepage Yet ]