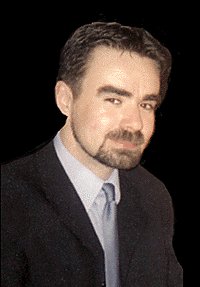 1. I am...
... 31 years old (going on 21) and residing in Northern Ireland, although my hometown is Glasgow (Scotland).

My handle was inherited when I collaborated with a friend (Remus) to build our first web site. The spelling is correct - at least for me, anyway - as I wanted to be seperated from a certain mythological character on the Web. It was also a very easy-to-remember name for a website: 'Romulous & Remus'.

I have been gaming since the days of the Sinclair ZX81 right through to today's PS2 system. Gone are the days when my entire family would crowd around the ZX Spectrum's heatsink during those cold winter months.
2. I got into MAME...
... when browsing the net for the first time and stumbling around, I came across a PCEngine emulator (Magic Engine, I think). A much-desired console when I was younger, albeit very out of reach.

The desire to play some old favourites happened when I came across MAME at Dave's Video Game Classics and have been collecting and updating ever since - I have almost full collections for everything available.

The rest is, as they say, 'History in the Making'.
3. I love playing...
... too many to mention, but here goes: Tempest, Ghost n Goblins, Black Tiger, Starforce, Wardner and just about any Shooter available.
4. I would like to say to Nicola and the MAME team...
... I don't think there is anything that I could possibly say that has not been said by many thousands before me. Long live the BORG! .. er, I mean the MAME team.
---
Machine specs: 1.4GHz (AMD T-bird) | 512MB (PC133) | 80GB+40GB+10GB H/Ds
Graphics: ATI Rage Pro (32MB) | Sound: SoundBlaster Live! 128
Controllers: Hotrod, kbd+mouse, Wacom A4 GFX tablet & beer can holder

---
[ no email given ] [ no homePage ] [ ICQ: 39553543 ]