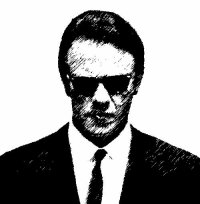 1. I am...
... MisterWhite, a 30-odd year old who spent his childhood growing up in Blackpool (UK), an early Mecca for videogames with its "golden mile" of arcade after arcade after arcade.

Most are still there now but contain little more than slot machines with the odd Dance Dance Revolution or Whack-A-Mole game for the kids / inebriated holidaymaker (it breaks my heart, sob)!

My school was located a few minutes away from the Pleasure Beach and I was often faced with the after-lunch dilemma of a) staying at school for double-English or b) removing my uniform and hitting the arcades with my pals - try and gess wich opshun I went for most of the tyme.

I've been a computer user since the early eight-bit era but was fairly late to the emulation scene due to my reluctance to part with my beloved Amiga and to invest in a PC.
2. I got into MAME...
... shortly after I took the PC plunge whilst looking for a "good" version of Galaga to play. I was like the proverbial dog with two appendages when I found that I could also play "arcade perfect" renditions of a lot of my other favourite games that I wasted my "educashun" learning to love.

Recently I was retired from work (on ill health grounds) and with the demise of mame.dk and other such sites I found myself with the spare time to look elsewhere for my sets... that's when I stumbled upon both a.g.m. and #tombstones and the various odd denizens that dwell within them.
3. I love playing...
... the older "classic" games. I also love it when someone recommends a game to me that I have rarely played and suddenly become hooked all over again, trying to beat my girlfriend's score. Luckily she also shares my love of these games and quite often kicks my arse: Pacland still painfully springs to mind!

My pet hate is when someone asks me if I can supply them with a romset for Metal Slug 8 or King Of Fighters 2012. In my opinion MAME is for keeping the old classics alive and not for playing a new arcade title without paying to do so.

Personal favourites include: Bubble Bobble, Hyper Sports, Mr. Do, Galaga, 1942 and Pang.
4. I would like to say to Nicola and the MAME team...
... thank you for providing your expertise to the project. All your efforts are greatly appreciated and hopefully the Pope will soon stop mucking around and grant you all the sainthoods that you each deserve for your time and commitment!
---
Machine specs: 2800MHz (Intel P4) | 512MB (SD-RAM) | 160GB H/D
Graphics: Radeon 9600 (256MB) | Sound: Realtek AC97 (onboard)
Controllers: X-Arcade & Sidewinder

---
[ e-mail me! ] [ HomePage ]