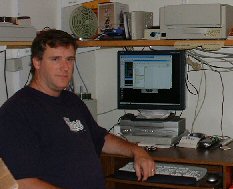 1. I am...
... a moose... living comfortably in southern New Hampshire (Merkinland) for quite some time, being born in '65 (that's 104 years old in moose years) and out of school before computers became a household item. I quite frequently can be found in #tombstones on the Foreverchat IRC network.

I got into video arcade games during the late 70s, working summers at a coin-op equipment vendor with my father. It was a common occurance in our household to have one or two arcade machines inside the house as my brother and I would *ahem* "test" them for my Dad (hey - *someone* had to make sure they worked properly!). Nothing better than drinking a bottle of wine to celebrate a graduation while playing "Clowns" (which, by the way, is HUGE when placed inside your bedroom).


2. I got into MAME...
... somewhere around version .61... I was in the middle of restoring an old "Scramble" machine which needed some hefty work and late one night I found myself staring at the cabinet and found myself needing a Scramble fix. I shared my dilemma with an online friend who proceeded to send me the Scramble rom and sent me to get MAME. In a word... "Hooked"
3. I love playing...
Well... not hard to see it was Scramble that got me into this mess, but I found myself reliving all my past favorites: Robotron, Berzerk, Gyruss, Joust, Wizard of Wor (ouch... spent a lot of coins on that one)... even Clowns is available...
4. I would like to say to Nicola and the MAME team...
Just "Thanks"... As a kid, I worked in the arcade machine business with my Dad, during which time we grew closer. He passed on in '93 and as sappy as it sounds, the games, sounds and sights bring back very fond memories...
---
Machine specs: 2.6GHz (Intel P4, FSB:800) | 1GB RAM (PC3200) | 500GB H/D (over 6 drives)
Graphics: ATI AIW Radeon 8500DV (64MB)| Sound: SoundBlaster L!ve 5.1
Controllers:IPAC/OPTIPAC-driven 2-player control panel with 3 joysticks, Oscar spinner, Wico trackball & Sidewinder FF steering wheel + pedals

---
[

e-mail me! ] [

HomePage ] [ I'm a burner! ]