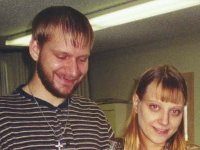 1. I am...
... John Baker, from Toledo, Ohio (USA). Born September 18, 1976; married to the beautiful Kimberly and father of Elizabeth and Addison, twin girls born December 30, 2001.

I currently work in the quality control department of aircraft repair facility here in Ohio.
2. I got into MAME...
... some time in mid-1999.

I got talking about videogames to a friend of mine at work, although it was console systems we were talking about. He couldn't believe I still had the NES and SNES and liked them more than the Playstation! He told me about a guy he knew who had an "Emulator" on his PC that could play all the NES games. So we searched the Internet for this mysterious "Emulator" and found www.zophar.net - and from there discovered MAME.

We had a lot of fun hunting down ROMs on little Geocities home pages and the like but I never really got into it until I saw the first webpage where a guy built a cabinet to play MAME games on!
3. I love playing...
Joust, Mr.Do, Pac-Man and the misses, Gala(ga,axian), Donkey Kong Jr., and many more!

I just wish I had the controls to play TRON...someday...umm..someday...
4. I would like to say to Nicola and the MAME team...
... ever since the TV show "Silver Spoons", where they had all the classic cabs in the living room, I have wanted my own arcade. Thank you for making it possible... but get rid of the mahjong crap!
---
[ e-mail me! ]