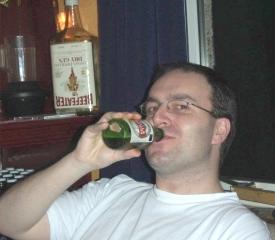 1. I am...
... Alex and I'm an arcade addict.

I first got into arcade games way back in the days of Space Invaders. Back when it was 10p a game and they had good gameplay. Not like now, where you need to take out a second mortgage to spend a day getting your retinas burned...

The appeal of arcades has always been the dark places with flashing lights and sounds belting out at full volume. Fag burns and sticky carpets were a bonus...
2. I got into MAME...
... by accident. I found a reference to it on another site and downloaded it from there. Then, a little later I discovered a.g.m. and saw the links to all the great sites. Chris, (The first free burner) gave me my first set of complete roms.

This was the start of something special in my game-playing life. All those games I'd played before and forgotten came flooding back. All the games I'd played once or twice and never knew what they were called were discovered again. Even now I still find games I'd played over 20 years ago.
3. I love playing...
My favourite games are racing games. Pole Position was my first real addiction. I spent enough on that game to buy the damn thing! After that I was hooked on racing games.

I've also had brief periods of shoot-em-ups. Slap Fight was my favourite for years. I had it on every platform I owned. I also love Xevious, Phoenix, Star Wars, etc... but I'll have to admit to not being a big fan of Defender! Far too many buttons, and I got killed just stepping up to the machine.....

Other games I've played over the years and had brief affairs with are: 720, NBA, Bubble Bobble, Tempest, Arkanoid, and various Golf Games.
4. I would like to say to Nicola and the MAME team...
I would like to thank the MAME team for bringing back my youth. Friends who grew out of the arcade habits have had tears of joy in their eyes after spending a few hours playing my collection.

Without your dedication, these games would have vanished forever. Thank you for keeping them alive.
---
Machine specs: 300MHz (AMD K6-2) | 128MB | 4.6GB (over 3 H/Ds)
Graphics: ATi Xpert 98 (AGP) | Sound: SoundBlaster AWE 64
Controllers: Saitek X6-32M Joypad

---
[ e-mail me! ] [ No Homepage Yet ]