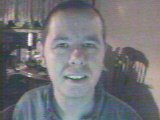 1. I am...
... Mark Coleman, 31 years young and live in Newham, (London) England.

I have been into computers since the ZX-81 and really got hooked during the speccy era. I've been playing arcade games since they first started trickling into the arcades in Southend-On-Sea, Essex.

I don't have a handle as I haven't thought of anything amusing enough! Suggestions please!!!
2. I got into MAME...
I stumbled upon 'Atmospherical Heights', a great website hosted in the Netherlands. This site was THE place to go for MAME and ROM images. Back then traffic wasn't high because MAME had not hit the TV, and word of mouth hadn't circulated yet. MAME was not popular then, and Atmospherical Heights was definately a cult thing, along with MAME.

In the end I believe MAME will encompass all the other arcade emulators and run nearly every arcade game...
3. I love playing...
Rainbow islands - really saps my will to live!
Metal Slug 1 and 2 - the devil is in the detail with these classics
Defender - Williams knew how to make a classic
Track and field - challenge relatives and impress friends with this one!

4. I would like to say to Nicola and the MAME team...
Hi Nicola. How did National Service go?

What have you lot started? This is what computers were invented for!
---
[ I'm a burner! ]